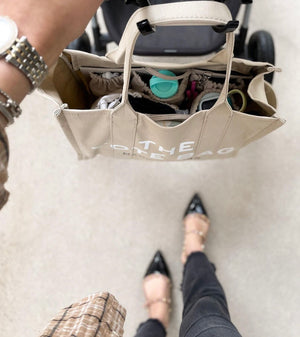 You will actually love to carry
Non Traditional Diaper Bag Options
Diaper bags have been a staple for parents for years, but traditional designs can often be bulky and unappealing. In recent years, however, non-traditional diaper bags have become increasingly popular, offering parents a stylish and practical alternative. From backpacks and totes to messenger bags and clutches, non-traditional diaper bags come in a variety of shapes and sizes, and are designed to cater to the needs of modern parents who are on the go. These bags are not only functional, but also fashionable, and can easily double as everyday bags. In this era of multi-tasking, non-traditional diaper bags provide parents with a convenient and stylish solution to their parenting needs.
To add expert organization to your favorite non-traditional diaper bag, we highly recommend pairing your ideal bag with a ToteSavvy bag organizer. ToteSavvy offers a variety of pocket styles, perfect for keeping all of your essentials organized. 
Why You Need a Tote Organizer
A ToteSavvy bag organizer helps you to compartmentalize your bag, providing you with more pockets and compartments to store your items. This way, you can easily find what you're looking for without having to dig through a mess of items. This type of organization is particularly handy when you're a parent and carrying a variety of diapering and baby items on a daily basis.
It is a practical and convenient accessory that can help you to stay organized, save time, and extend the life of your tote bag. It's a must-have for anyone looking to use an open tote or large purse as a diaper bag.