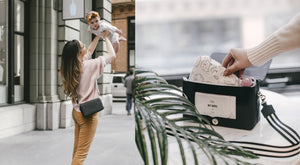 The compact, lightweight baby bag of your dreams.
Micro Crossbody Diaper Bag
Our mini crossbody diaper bag is designed to be compact and lightweight, making it convenient to carry while providing enough space for essential baby or toddler items. With the crossbody style, the diaper bag can be comfortably worn across the body (long or short), leaving your hands free to tend to your baby or chase your little speedster. 
Despite its smaller size, the micro crossbody diaper bag offers well-designed compartments to keep essentials organized and easily accessible. Under the top flap is a window for easy access to wet wipes or antibacterial wipes. 
The mico diaper bag is not limited to diapering needs alone––serving as a functional everyday bag for parents for short trips, errands, or travel. Its compact size makes it easy to carry and maneuver through busy airports, crowded places, or public transportation.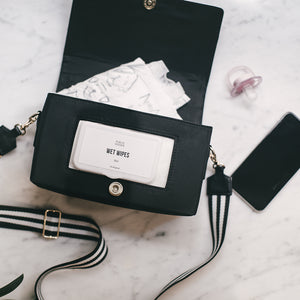 Window for easy wipes access