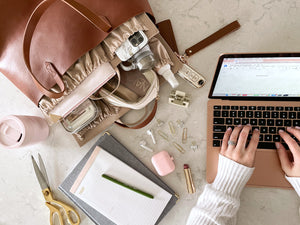 Organization for Your Work Bag
If you're looking to streamline your work routine and maximize productivity, proper work bag organization is key. With a well-organized work bag, you can easily locate and access your essential items, saving valuable time and reducing stress. Utilize a ToteSavvy Deluxe bag organizer to efficiently categorize and protect your belongings, giving each item a designated place for easy accessibility. 
ToteSavvy Deluxe Insert
Our Deluxe insert is the perfect companion for your work tote. With 10 pockets, including a zipper insulated pocket to store beverages or a lunch, and a plush-lined tech pocket to hold your laptop or digital tablet. Deluxe boasts a variety of other pockets perfect for storing chargers, AirPods, pens, notebooks, and everything else you carry daily. 
Experience the benefits of a streamlined and stress-free workday by investing in a ToteSavvy Deluxe work bag insert.